. . . simple country pleasure
. . . simple country pleasure
. . . simple country pleasure
. . . simple country pleasure
. . . simple country pleasure
. . . simple country pleasure
Valley Springs Farm Bed and Breakfast, your hotel alternative, is located in rural Reedsburg, just minutes from the 400 Bike Trail, Award Winning Cheese Factories, Amish Artisans and the Wisconsin Dells.
Your Valley Springs Farm Bed & Breakfast experience in Wisconsin, takes you out to the tranquility of the farm where the only noises you'll hear are the sounds of farm animals and an occasional tractor. No matter the season – springtime smells of fresh tilled earth, fresh cut alfalfa hay in the summer, brilliant autumn hues surrounding the valley or winter's snow covered blanket – it will take you away from the hustle and bustle of everyday life. Innkeepers Don and Dorothy Harms welcome you to a relaxing getaway at their farm home.
Farm to Table is not just a trend – it has been a way of life at Valley Springs Farm. A country-style breakfast is served everyday from 8:00 -10:00 am. There is nothing like a home cooked, farm-fresh breakfast to start your day! Food Restrictions?- Just let us know in advance of your stay. We cook with fresh produce, fruits, meats, and eggs sourced from local farms when possible.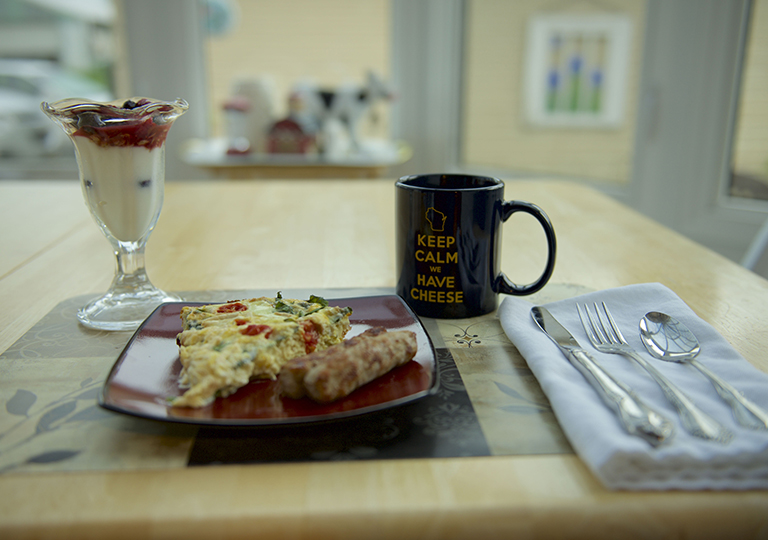 – inviting you to "…keep peace in your soul." Get a peaceful night's rest in your queen sized bed, relax in the comfortable reading chair or enjoy the view of the valley below. Ensuite private bath – shower only. Sofa sleeper available for extra people. Free wi-fi. Flat screen TV with Netflix, A/C
This room is on the second floor and is not accessible by those that can't use stairs.
– soothing shades of lavender set the tone to "Relax – take one day at a time." Antique queen sized bed offers restful nights, rocking chair invites you to a peaceful reading space, east view window welcomes the morning sunrise. Day bed provides additional accommodations. Shared hallway bath with Sage Room. Flat Screen TV with Netflix, A/C, Free wi-fi. Luxury robes.
This room is on the second floor and is not accessible by those that can't use stairs.
VALLEY SPRINGS FARM BED AND BREAKFAST AMENITIES

Queen beds
Air conditioning
Linens provided & luxury bath robes
High Speed Wireless internet throughout the inn for those on workcations
 Hospitality nook (includes microwave & refrigerator) – complimentary water & soda
Front porch with peaceful view of pastures
Enclosed sunroom to enjoy morning breakfast or bird watching
Lower patio with lounge chairs and campfire area to sit and enjoy the clear starry nights
Flower & vegetable gardens to stroll and see what is in season
Swing & slide playset for children
Hiking on county roads and field paths
We wanted a small farm out in the country for a few restful days, and this stay blew any expectations we had of our trip out of the water. We had the perfect stay little detail is top notch, and we can't say enough about how wonderful breakfast was! We have 2 small kids, and they loved everything – they even had toys and books to entertain them, along with farm animals and a nightly fire with Smores! We could not ask for more! Stay here and you will not regret it!
Your farm was amazing and the quality of the stay was absolutely superb.  So many small touches that showed how much care you put into taking care of guests.  It was an absolute pleasure staying with you and we would do so again in a heartbeat.
Family/Friends Getaway- Book all 3 rooms for your group (2 night minimum) – 10% discount
All 3 rooms must be booked at the same time.
Extended Stay – Book a room for 3 or more nights 10% discount (Sunday- Thursday only)
Special rates for Business Professionals in the area for extended periods of time. This is only available if you call and reserve 608-495-1096.


Heritage Skills Classes
Learn the lost (almost) culinary arts of "putting food up" and the food artisan skills of pressure and water bath canning, fermenting, making meals from scratch, baking and cooking from whole foods and jam/jelly making. We invite you to make memories, eat great food and gain skills you really can use! Classes can be added to your stay.
Celebration Package – Birthdays, Anniversary, I love you or "Just Because"
We can assemble your choice of available Local goodies ($25-$35) to surprise that special person:
Amish homemade chocolate candies – choice of chocolate cashew, toffee, or peanuts
Bouquet of fresh flowers from local Amish flower farmers.
Decorated cakes, cake pops, and cupcakes from Sissy's Cafe. Pricing listed at check out.


Family Picnic BBQ
Enjoy grilling on our patio with Valley Springs Farm Fresh Beef hamburgers & hotdogs
Feeds 4-5 persons
Includes hamburger patties & hot dogs, buns, condiments, choice of two sides and tableware.
Price: $45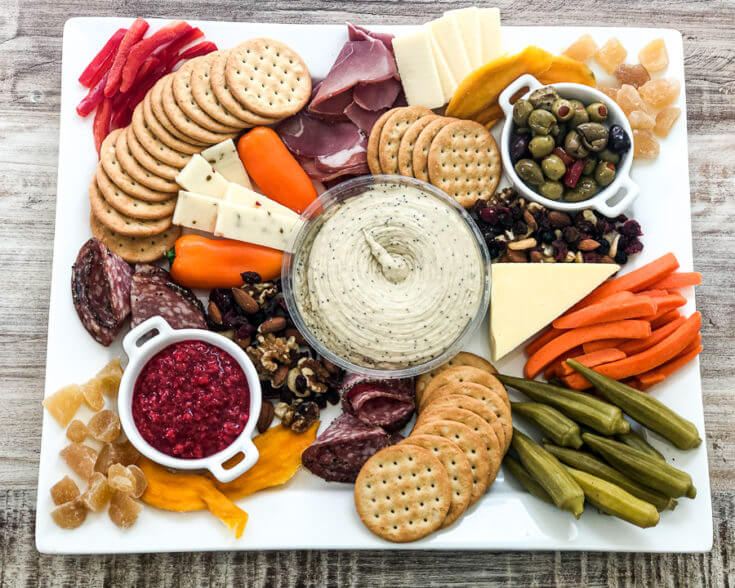 Grazing Boards
Don't want to make supper or find a place to dine-in or carry-out? Our Grazing Boards, also known as charcuterie boards, are the perfect option! Must be reserved in advance.
Graze on local cheese, meats, crackers, veggies, fruit, & nuts while cow gazing.
Your board will be waiting for you when you arrive in the fridge or can be delivered on another evening of your stay when staying more than one night.
When ordering let us know if you want some kid-friendly options included (like colby jack cheese cubes & gold fish crackers) OR if you'd like some HEAT/Spice in your cheese!
Pricing:
Dinner for two – includes 3 cheese types, 2 meat types, 2 cracker types, peppers & hummus, grapes, and mixed nuts & chocolates. $35
Dinner for four – includes 4 cheese types, 2 meat types, 3 cracker types, grapes, banana chips, peppers with hummus, and mixed nuts & chocolates. $60
Dinner for six – includes 5 cheese types, 3 meat types, 3 cracker types + baguette, grapes, banana chips, & dates, peppers & cucumbers with hummus, and mixed nuts & chocolate. $75
VALLEY SPRINGS FARM BED AND BREAKFAST POLICIES
CHECK IN/CHECK OUT & BREAKFAST
Check –in: 4-6 pm or by appointment. Should you be arriving after 6 pm, please call.
Check –out: 11 am.
A country-style breakfast is served everyday from 8:00 -10:00 am. There is nothing like a home cooked, farm-fresh breakfast to start your day! Food Restrictions?- Just let us know in advance of your stay. We cook with fresh produce, fruits, meats, and eggs sourced from local farms when possible.
DEPOSITS & CANCELLATIONS
One night's deposit due at time of reservation – Visa or Mastercard. Room rates include a full breakfast each day for two people. Taxes are additional (5.5%) Please book online(email: valleyspringsbb@gmail.com) or by calling 608-495-1096 or 608-524-2421. Full payment required at check-in. We accept Visa, Mastercard, Discover, check or cash.
Cancellations: 7 day prior notice by calling 608-524-2421 – full refund. Cancellations received less than 7 days will be charged for your stay and will be issued a gift certificate in the same amount for a future stay valid for one year from date of issue.
Covid Policies
What you can expect during your stay
All linens sanitized in high-temperature wash
Hand sanitizer available to guests & staff
Regularly sanitized high-traffic areas
Staff required to regularly wash hands
Contactless check-in
A note from Valley Springs Farm Bed & Breakfast
We are fully open at this time and my husband & I are fully vaccinated for COVID. We are using UV light air purifiers in each bedroom. Face masks are not required but guests are welcome to bring their own if they feel more comfortable. Farmer Don & I will remain socially distanced during your stay but will be available to answer questions or outdoor farm tours.
SMOKING & PETS
This is a smoke-free facility.
Family Fun – We strive to maintain a peaceful atmosphere, and include people of all ages. Families are encouraged to come and enjoy the sights and sounds of farm life. No guest pets, please.
ADA WEBSITE COMPLIANCE
Our goal is to provide a wonderful experience in the desirable location of Reedsburg, WI.   We have built our site with ADA compliance in mind and have utilized available tools such as achecker.ca and Google Chrome's ADA compatibility diagnostic tools. Please be aware that our efforts are ongoing.  If you have difficulty navigating our website or booking a room at our inn, we ask you to contact us via telephone or email and our helpful staff will be happy to assist you.
E4681 County Road S
Reedsburg, WI 53959
(608)524-2421
Owners:  Don Harms, Dorothy Harms
We work very hard to provide an easy-to-use online experience for all guests. We believe all of our website visitors should be able to easily research online on https://valleyspringsfarmbb.com regardless of device type and whether an individual requires assistive technology. Our Inn's website allows visitors to search for accessibility featured guest rooms with ease and details our property's accessibility features here. Please note that our property is a working farm and is not Accessible to those with disabilities. We have no ADA Compliant features at the Inn. If you have any questions or would like to report any issues related to the accessibility features of our property's website, please contact us at valleyspringsbb@gmail.com
Bed and Breakfast Website Accessibility Features
This inn's website for Valley Springs Farm Bed & Breakfasts is designed to be fully accessible to all and is designed according to W3C Web Content Accessibility Guidelines (WCAG) 2.0 and conforms to most priority checkpoints which entail some of the following elements:
Navigation Shortcuts
Our inn's website can be navigated by using the tab key to traverse the elements of each page and by using the enter key to activate a highlighted link.
Structured, Semantic Markup
HTML heading tags are used to convey the document structure. Navigation menus are tagged as HTML maps so that the menu title can be read out, and the menu items are presented as a group.
Images Visibility
All content images include descriptive ALT attributes and all purely decorative graphics include null ALT attributes.
Standards Compliance
The site is designed to conform to Level AA compliance as specified by the Web Content Accessibility Guidelines. All pages validate as XHTML 1.0 and use structured semantic markup.
Accessibility References
Accessibility Software and Services
The following tools and services are available for free to assist you with viewing and interacting with our website:
HTML Validator for HTML Validator, a free service for checking that web pages conform to published HTML standards.
Click Here for Web Page Backward Compatibility Viewer, a tool for viewing your web pages without a variety of modern browser features.
Click Here for Lynx, a free text-only web browser.
Browser Help
Optimize the way you view your web browser. If you have difficulty in reading our website on your screen, you may be able to change the settings on your browser to help you improve readability and visibility of each webpage:
Learn about the Accessibility features of these major Internet Browsers below:
Find out more about our farm by watching this video!
Valley Springs Farm offers the tranquility of rural life with easy access to recreational, cultural and culinary activities.
Innkeepers Don and Dorothy Harms, lifelong Wisconsin Dairy farmers, now operate a working grass fed beef farm which offers the sights and sounds of the country – from sandhill cranes returning in the spring to newborn red angus calves frolicking in the pasture with their mommas.
The 255 acre farm is a mix of woodlands, pastures, rolling cropland, and wetlands supporting abundant wildlife and our grazing cattle. The spring-fed pond is a welcome stop for migrating geese and birds. Valley Springs Farm has been operated by the Harms family for over 135 years with Don as the 4th generation.
Are you curious about a farmer's job producing milk and meat for the public? – "Farmer Don" is willing to share his lifetime of farming experience with you. Farm tours are available with advance reservation. On our tour, you can feed a calf, see what cows eat, how they are milked, or get your picture taken with one of our antique John Deere tractors.
You can stroll through the gardens enjoying flowers, berries, vegetables and fresh fruits in season. Spend some time picking plump raspberries or crisp apples. If you are an early riser, head outside to relax on the front porch and watch the ducks on the pond as you sip a cup of gourmet coffee. Explore nature up close and personal on the 2/3 mile hiking trail winding through woods and fields on our property. You can also choose to sit by the campfire at night and spend an evening stargazing with a loved one.
Valley Springs Farm Fresh Beef –naturally raised Red Angus beef
Why choose to buy Valley Springs Farm Fresh Beef?
Buy Local – Connect with the food you eat by meeting your farmer and exploring the farm. Know where your food comes from.
Eat Well and be Healthy – Buy the freshest food for your family. Discover new foods and learn how to cook them.
Protect the Environment – Cut down on the number of miles your food travels from the farm to the plate.
A Family Tradition – Valley Springs Farm is proud of our farm and our animals are given the utmost of care and respect. We feel that it is our responsibility to be good stewards of the land. Our cattle are primarily pasture fed with supplemented forage and silage. The beef we produce is humanely raised without animal by-products and is free of antibiotics.
Beef is available in bundles and/or specific cuts. Check with us for current pricing. Processed at Straka's Meats, Plain, WI – HACCP certified, state inspected, and animal welfare certified. Place your order here.
The General Store – Dorothy's Homemade Jams, Valley Springs Farm scone mixes, and a variety of soaps, cheeses, maple syrup from local farmers (depending on availability) – We can reserve them for your arrival. Better yet, inquire about upcoming classes on pie baking and water bath canning (make your own jams!). 
SEE MORE

Valley Springs Farm Bed & Breakfast
E4681 County Road S. Reedsburg, WI 53959
Approximate Travel Times from Various Cities
Chicago: 3-4 hours
Twin Cities: 3-4 hours
Madison: 1 hour
Milwaukee: 2-3 hours
Reedsburg is located sixty miles north of Madison, WI and fifteen miles off Interstate 90/94 on highways 23/33. Valley Springs Farm is 7 miles southwest of Reedsburg on County Road S near the communities of Loganville and Lime Ridge.
From the Interstate 94: Take HWY 23 exit (Exit 89) to Reedsburg. Once in Reedsburg drive on Hwy. 23/33 east to west. Follow Hwy. 23 south from Reedsburg for two miles. Turn right on County Road S and follow "S" for five miles. Valley Springs Farm Bed & Breakfast is located at E4681 County Road S. (Note: house fire numbers on County Road S are NOT in numerical order and change from E to S and back to E.)
From Spring Green: Take HWY 23 North to Loganville. Continue on Hwy.23 North for 1 ½ miles out of Loganville and then turn left on Sand Hill Road. Follow Sand Hill Road for 4 miles and turn sharp left at STOP sign on to County Road S. Continue 1 ½ miles on County Road S to arrive at Valley Springs Farm Bed & Breakfast located at E4681 County Road S.